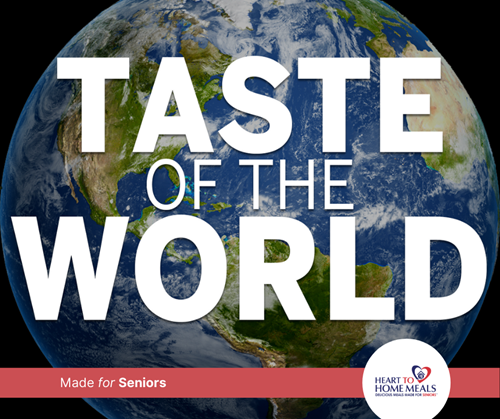 Looking to take your taste buds on the trip of a lifetime? Don't worry about packing your bags and updating your passport because here at Heart to Home Meals, we're going to take you on a culinary journey to all our favourite (and tastiest) destinations, ones that have influenced the fantastic flavours you'll find in our wide array of dishes.
EAST ASIA
East Asia is the most populated place on earth. While it comes as no surprise that there are many varieties of regional cuisines, there are also similarities found throughout, such as the contrasting of flavours that include the 5 basic tastes: sweet, sour, salty, bitter, and umami. As well, the use of ginger, garlic, sesame seeds, and fragrant herbs and spices, unifies this balanced and contrasting cuisine.
Try our:
INDIA
While acknowledging the wide and delicious culinary diversity across India's regions, there are certain commonalities that unify South Asian cuisines. Indian cooking is noted for its use of spices, mixing upwards of 5 spices (chili pepper, cumin, turmeric, ginger, cardamom, cloves, cinnamon, coriander, nutmeg, and saffron, to name a few) together to create unique flavour profiles.
As well, there is an abundance of ambrosial curries, fragrant rice, and the inclusion of yogurt and coconut milk - try our:
ITALY
When a cuisine is noted for everything from pasta, pizza, and cheese to fresh tomatoes, herbs, and legumes, you know you're in for a treat. Italian meals (be it a long lunch or a family-packed dinner) are ones to be enjoyed, savouring the flavours, textures, and even a nice glass of Chianti.
Buon Appetito!
USA
From North to South, there are specialties served up all over the United States. Whether it's Southern barbecue you're craving, a tasty walk down memory lane with some warming comfort food, or a classic and decadent dessert, our selections will take you on a culinary road trip sure to have you singing the praise of the red, white, and blue.
Try our:
BRITAIN
A jaunt across the Pond and we discover that British cuisine is highly underrated.
Ranging from the family supper to the tea-time treat, from beef, lamb, and pork, to chicken, fish, and potatoes, there's something substantial, yet simple and wholesome about traditional British fare. Try our:
EASTERN EUROPE
No matter where you're dining in Eastern Europe, there is a consistent adjective that will come to mind: hearty. Rooted in the comfort of peasant dishes, the ingredients in these cuisines are often simple and honour age-old traditions of preparation.
Warm, welcoming, and perfect for sharing, no matter where you hail from, Eastern European food speaks one language: delicious. Like our:
-----------
So, what are you waiting for? Grab your fork and join us on this around-the-globe culinary adventure!
Heart to Home Meals is a proud supporter of the Relay For Life and the Canadian Cancer Society, building on our shared mission to promote healthy eating, healthy living and healthy lifestyles. To learn more about our program and discover the meals which help support the fight against cancer, CLICK HERE!
Don't forget to "Follow" and "Like" us on Facebook