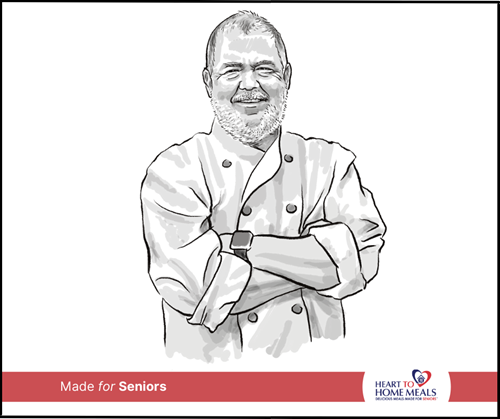 Chef Marc Miron has an impressive resume that spans over 35 years and across multiple continents around the globe. As the Executive Chef for renowned establishments such as Four Seasons Hotel and Resorts, he has received top honors for his creativity, technique, and expansive knowledge in the culinary world.
As part of the Heart to Home Meals team, Chef Marc is now sharing his talents to craft delicious, comforting, and nutritious meals designed for seniors to enjoy with ease and convenience. We sat down with Chef Marc to learn more about his approach and how he has taken Heart to Home Meals' offerings to the next level.
What are your goals for developing meals and what approach do you take to reach them?
My goal for creating and developing recipes for Heart to Home Meals is simple - set and maintain a gold standard of excellence. I aim for every meal to be the best version of itself that it can be - if it is Braised Beef, I want it to be the best braised beef possible. To then reach that gold standard, I use my culinary knowledge and experience to incorporate quality ingredients and techniques that are traditional for each dish to craft flavourful and comforting meals that seniors can enjoy and appreciate.
How have flavours and textures improved with the meals you developed?
When looking to revamp and improve our meals, I started at the foundation. The majority of our meals use a base (aka a stock) to add layered flavours to stews, sauces, soups, and so much more. Because the base is such an integral part in all meals, I examined our bases and ensured we are using the best stocks (remember that gold standard!) so that every meal uses deep, concentrated flavours as a foundation that can be built upon.
To improve the taste of our meals, I also looked at the seasonings used and ensured that what was used was authentic, purposeful, and distinctive for each dish. For example, our Beef Stew, Braised Beef, and Swiss Steak are similar in nature, but we use different spices for each, ensuring that they have their own identity and offer a greater variety to our customers.
Once our bases and seasonings were elevated, our team reassessed the cuts of meat used for different meals. I wanted to guarantee we were using the optimal cut that would offer the best texture for that dish. For example, in our Beef Stew, we began using beef chuck for fattier, more tender pieces of meat that would provide greater flavour and texture.
Finally, something that I adjusted that not many people consider, but that is a significant game changer, is how we plated certain dishes. For breaded meals like Breaded Sole, we want the coating to stay fresh and crispy. So instead of pouring sauces on top of the meat, we place it under the meat so that the top breading doesn't get soggy and has the ultimate crunch.
How do you keep the meals exciting and authentic?
Making our meals exciting and thoughtful begins with me. I need to be excited about the meal to bring the best out of the ingredients and my cooking. If you're not excited about a dish, you're not cooking from the heart and that makes a huge difference! We also challenge ourselves and try to build unique flavour combinations that balance sweet, salty, and acidic, to excite the taste buds with every bite.
When it comes to authenticity, I make that my personal goal for every dish so that seniors enjoying our meals can trust that the flavours and ingredients are true to traditional recipes they have adored for decades. From the bases, to the seasonings, to the cooking techniques, I use my experience to honor the dish's origins and build authentic meals. Our Beef Goulash, for instance, uses Hungarian paprika and is finished with a hit of caraway seed for a classic take on the Austrian dish. We also keep our meals authentic by limiting processed ingredients and incorporating homemade sauces and flavour boosters to craft a more natural meal you can trust.
What are some top meal concerns for seniors and how do you confront them as you develop new recipes and dishes?
Heart to Home Meals is more than just a convenience for seniors in the kitchen. It provides nutrition and sustenance that is so important for the elderly to maintain. My goal is to listen to the needs of seniors and meet these concerns, but never sacrifice the flavour and authenticity of these delicious meals.
As we age, the amount of food we can eat in a sitting tends to decrease, so we've created various portion sizes that match your appetite. We also respect our audience's taste buds by crafting traditional, comforting meals that they can look forward to and feel good about.
A huge part of our recipes is their nutritional benefits. Whether it be high in protein or low in sugar and sodium, we continuously test our recipes and consult with our team of dieticians to ensure the Heart to Home Meals' standards are met. When we do make ingredient substitutions to enhance nutritional benefits, I make sure the texture and flavours can still reach our gold standard and don't stray too far from the classic flavours and textures. The same applies to reducing sodium, sugar, and saturated fats in our recipes. We only do so when substitutions and added ingredients can boost the taste and flavours don't fall flat when we make reductions.
Finally, what are your favourite meals?
We have created so many delicious meals that capture a wide range of cuisines and taste profiles, but there are a few from each category that stand out and I am extremely proud to share with our Heart to Home Meals customers.
BEEF
CHICKEN
PORK
FISH
VEGETARIAN
In both of these meals, we substituted ground meat for high-protein lentils that deepen the flavour and add a hearty texture to the dishes. They're so good you will love them even if you aren't a vegetarian!
Meals Mentioned in this Post