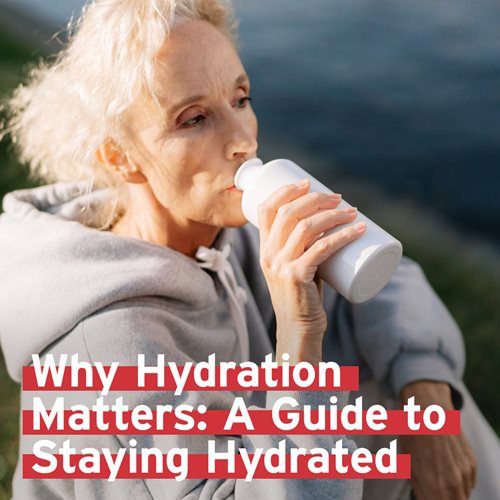 No matter your age, drinking water is always important. Water is the most essential nutrient in the body and provides countless health benefits throughout one's life. Proper hydration helps improve joint mobility, fights infections, and keeps the organs running as they should. 
For seniors, regular water consumption helps boost metabolism, regulate blood levels, reduce joint pain, and maintain youthful and nourished skin. Though the summer weather brings opportunities for outdoor socializing and fun, it also comes with dangerously high temperatures and the concern of dehydration. 
Experts generally recommend that older adults drink 7-8 cups of water daily. But reaching this quota is not always easy and remembering to integrate water into your diet can be a daunting task. At Heart to Home Meals, our goal is to make seniors' lives easier and more enjoyable, so we've put together this list of tips and tricks to help you stay hydrated this summer season.
THE TOP 5 TIPS TO IMPROVE YOUR WATER CONSUMPTION
Tip #1 - EAT MORE FRUITS & VEGETABLES
Did you know you can eat your water? Many healthy foods like raw fruits and vegetables have high water contents and consuming them daily can help you stay hydrated. Strawberries, melons, spinach, and celery all contain over 90% water, making them refreshing additions to your diet. Bonus: These foods are also packed with vitamins and antioxidants to help improve your overall health. Talk about a win-win! 
Tip #2 - WAKE UP & WATER (YOURSELF)
Make it a goal to drink one full glass of water before getting ready in the morning. Studies have shown that drinking water before leaving your bedroom helps quickly rehydrate your body and fuels your brain to improve levels of alertness. Turns out that the early bird gets the worm and the healthy habits. 
Tip #3 - GIVE WATER A PLACE AT THE TABLE
An easy way to remember to hydrate is to consume water with every meal. That way, you've scheduled at least three designated times throughout the day when you can check in on your body and replenish yourself. Aim to replace all carbonated beverages with a glass of water – you can always make your water more flavourful with the addition of a small slice of lemon or lime, with frozen berries, or with sliced cucumber and fresh mint.
Tip #4 - USE THE BUDDY SYSTEM
Hydration can be a group activity! Team up with friends or family and challenge each other to meet daily water goals. Having a support system is a great way to hold each other accountable and add some friendly competition into this otherwise mindless task. 
Tip #5 - THINK BEYOND THE FAUCET
If drinking plain water feels like a strenuous task, there are many other avenues to proper hydration. Decaffeinated unsweetened teas (hot or on ice), skim milk, fruit smoothies, and broths, all add to your fluid intake and are great (and tasty) year-round additions.
------------------
Do you have questions about senior nutrition? Download our FREE eBook to learn more: Click here to Download NOW! 
Don't forget to "Follow" and "Like" us on Facebook