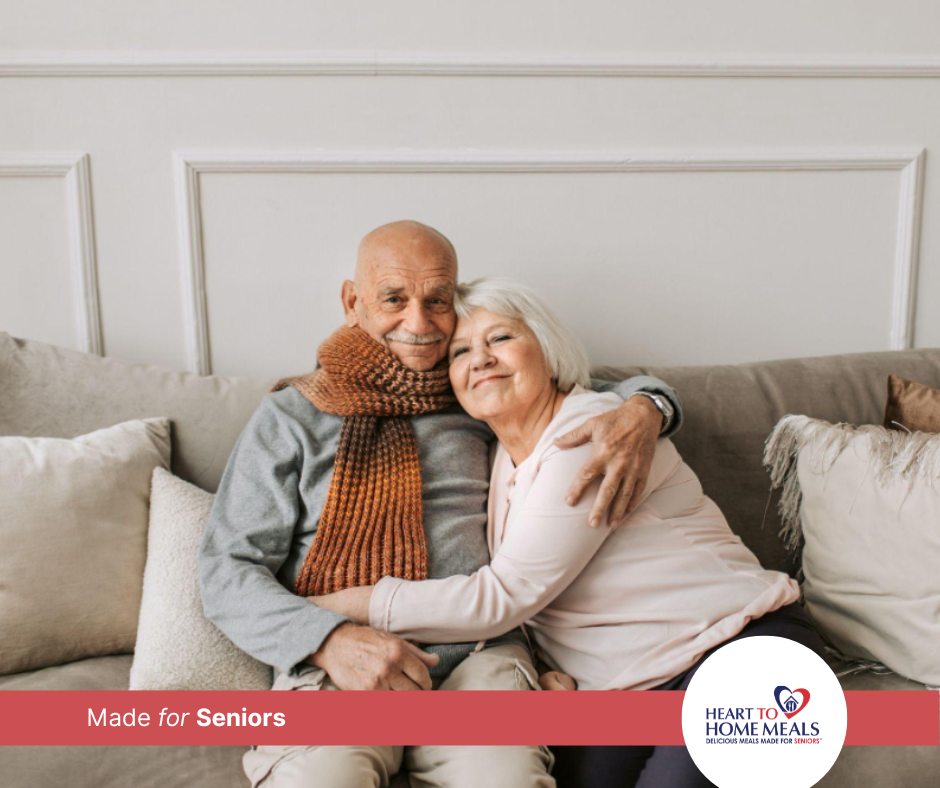 There's no place like home, home is where the heart is, and home sweet home, are all well-known phrases for a reason – the sentiment is that home is where we find love, comfort, security, and family. With that in mind, it's no wonder that when surveyed by The Royal Bank of Canada, nearly 90% of seniors want to age at home.
Here at Heart to Home Meals, we recognize that staying at home for those golden years can be a complicated decision, however, we're here to make it easier for you as you age. Not only do we provide stress-free, mealtime solutions of delicious, nutritious food delivered directly to your door, but we also help eliminate the burden of grocery shopping, the fuss of dirty pots and pans, and the guilt of wasting food, to name a few.
With the hurdle of, "I don't want to cook anymore," jumped, what are some of the benefits you can expect to experience by aging at home versus moving into an assisted living facility or a nursing home?
Maintain your Independance
Chances are that in your adult life, you've always had and enjoyed the ability to make decisions such as when and what to eat, what activities you do or don't want to participate in, and when you want company or when you would prefer to be alone. Aging outside one's own home can curb that freedom – your living space may be shared, your meals selected by others, and your routines disrupted. Self-determination can feed into one's sense of satisfaction, dignity, and peace, so as we age, it's invaluable to have our personal wishes and preferences honoured.
Keep Germs at Bay
Not only has the multi-year global pandemic greatly impacted our social and business lives, Covid-19 and its' variants have also had devastating effects on nursing homes. Like this virus, others such as colds and flus can spread among the residents in communal living environments. Aging in the comfort and safety of your own home may better protect you from easily transmissible illnesses and support the ongoing health of your mind and body. As well, aging at home allows you to control who you're going to be in contact with, and thus, can help lessen the stress of "catching" anything.
Stay Connected
In case facilities, there can be rules surrounding when and for how long residents can receive visitors, whereas at home, it's just a matter of opening your front door to your family and community. Remaining at home brings the freedom to interact with who you want, when you want – the benefits of surrounding oneself with loved ones, of having a social network, and a strong support system as we age is so important as companionship can play a large part in feeling happiness, fulfillment, and connection.
Live in Comfort
You've spent years making your house into a home. From your warm memories and familiar smells to your comfortable mattress and favourite chair, your home is where you feel both emotionally and physically comfortable. Aging in place allows adults to remain in familiar surroundings, and, with the help of Heart To Home Meals delivery service, can enjoy life out of the kitchen, assured that the delicious meals delivered will nourish seniors' bodies and minds.
Receive Personalized Care
In addition to the benefit of cost-savings, getting home care assistance can be done in a very controlled and personalized way, making sure the "fit" and services provided are perfect – home care is a one-on-one experience and can be customized to meet an individual's needs and schedule. As well, a further benefit of home care is that it can provide companionship, all the while preventing caregiver fatigue.
As you can see, there are many benefits of staying in our homes and communities as we age, including maintaining independence, comfort, and easy access to family, friends, and support.
At Heart To Home Meals, we want to make aging at home an easier reality for seniors by providing a wide and delicious array of nutritious chef-designed meals.
To get your free Heart to Home Meals menu, click here.