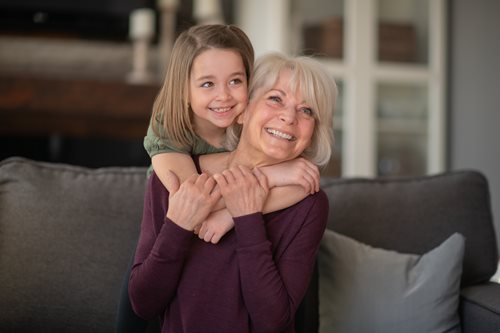 Everything You Need to Know About Intergenerational Day
Every June, Canada celebrates a moment when we seek to reach across generations and share with people who've lived vastly different experiences. Called Intergenerational Day, this event is meant to connect young people with seniors in an effort to combat the negative effects of loneliness and isolation -- feelings that have become all too common in light of the pandemic and ensuing lockdown.
This year marks the 10th Anniversary on Intergenerational Day -- an important milestone for an auspicious event. A decade ago, Intergenerational Day was founded because it recognized that a lack of connectivity which fostered feelings of loneliness and isolation had similarly harmful effects on the health of young people and senior citizens alike. By raising awareness of this, and bridging a generational gap, Intergenerational Day seeks to bring people together, improving the mental and physical health of young and old alike.
Here's what you need to know to celebrate 10 years of Intergenerational Day:
The History of Intergenerational Day
Back in 2010, the i2i Intergenerational Society (named after their mission -- an "invitation to intergenerational immersion'') decided to create a day that championed their mission. Created by a coalition of educators, health care workers, seniors, community members, young people and parents, i2i seeks:
"to promote intergenerational programs and learning opportunities, and to assist in developing rich and sustainable connections between generations."
Intergenerational Day is a key part of the i2i mission and an important tool for raising awareness. So far, 12 provinces and territories and over 100 cities have signed on to celebrate this event, with Ontario, Manitoba and New Brunswick actually signing its official recognition into law.
Over the last 10 years, Intergenerational Day has grown in scope and impact, as its importance becomes more broadly apparent. By fostering the creation of diverse communities that include both young people and seniors alike, Intergenerational Day is a valuable moment for us to increase our connectivity and disrupt feelings of isolation.
How to Celebrate Intergenerational Day
The core purpose of Intergenerational Day is to connect people born in vastly different times, who've had vastly different experiences, but work towards common goals. As a senior citizen, this means taking an opportunity to contact and exchange with a much younger person. It's not only a fantastic chance to combat feelings of loneliness you might have, but recognize the value this connection might bring someone much younger than you.
Undoubtedly, seniors have a great deal of wisdom to offer younger generations. Many of the novel experiences young people face and are challenged by are unique to someone who has already lived a life filled with similar moments. Acting as a guide or a mentor can be a huge relief for younger generations who can sometimes feel they are going through difficult times alone.
Similarly, young people can offer older generations insight into the goings-on of modern-day life, both providing the comfort of companionship and the practical benefits of people who are learning and very capable with a variety of modern amenities. While you undoubtedly have much to teach and explain to young people, it can be a true joy to learn from them as well! Intergenerational Day is an excellent opportunity to establish such connections.
Whether it's an email or phone call to a grandchild, or simply stopping to chat with a younger visitor and asking them questions, celebrate this Intergenerational Day by making an effort to combat feelings of isolation and loneliness that are endemic to every person, regardless of age.
Heart to Home Meals Recognizes the Importance of Connecting Generations
At Heart to Home Meals, we truly believe that our business is about more than home food delivery -- it's also about the relationships and connections we make with our clients. From our customer service representatives to our delivery drivers, everyone at Heart to Home Meals is genuinely passionate about building relationships with the seniors we work with.
One of our most important considerations is the health and well-being of our clients, which is exactly why our meals have been tailored to provide the balanced nutrition you need. But wellness is about more than just our physical health -- it includes our mental wellness too. As we learn more about the negative effects that isolation and loneliness can have on our health, it becomes an important part of our mission to create connections and build relationships.
These days, with social distancing being so important, it can be more difficult to have human connection on a regular basis. We want all of our customers to feel that they can safely interact with our delivery drivers who will maintain an appropriate distance, and of course our customer service representatives who are only a phone call away.
---
Ten years ago, Intergenerational Day was created to bring together young and old people for the benefit of both. Today, we continue to celebrate this important mission and encourage everyone to experience the value such connections can bring.
Don't forget to "Like" and "Follow" us on Facebook