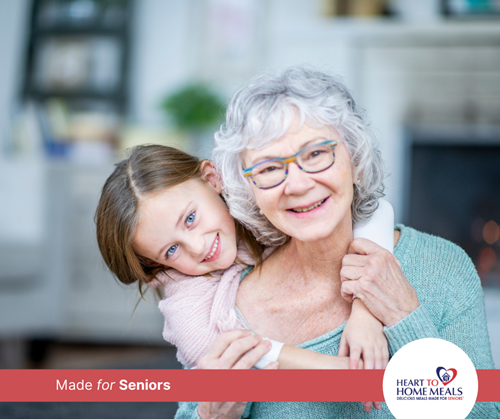 Every year on June 1st, Canada celebrates Intergenerational Day, which is a day of awareness to bring attention to senior citizens and encourage connections between older and younger people. The major aim of Intergenerational Day is to combat feelings of isolation and loneliness by bringing generations together. It's also a great way to encourage respect and care for seniors, while teaching younger people the challenges the elderly face.
Since 2010, the i2i Intergenerational Society (named after their mission -- an "invitation to intergenerational immersion'') has worked with educators, healthcare workers, community leaders and seniors to promote Intergenerational Day and the connections it creates with young and older folks alike. This year is another great opportunity to participate.
As part of the mission of Intergenerational Day, a series of lessons are prepared for young people to further educate them on seniors, as well as allow them to connect more easily. These lessons are based upon three important pillars: Accepting, Respecting and Protecting. Here's what you need to know:
The Three Pillars of Intergenerational Connection
Intergenerational Day provides a unique educational opportunity for children that will help lay a foundation of respect for seniors, which will last them throughout their lives. The intention of these programs is to reach children between the ages of 9-11, and through them encourage awareness about the lives of seniors, increase sensitivity about challenges they face, nurture empathy and develop respect for people from different generations.
Accepting: The first major pillar of Intergenerational Connection is "accepting". This can seem like a pretty low bar, however, for a child, the experiences of a senior can be very difficult to comprehend, much less appreciate. The first step to getting there is learning acceptance.
Part of the "accepting" lesson involves simply understanding what it means to be older. Children can easily take for granted their mobility and good health, both things many seniors must do without. Accepting the differences between seniors and young people will help bridge the gap to a more comprehensive understanding.
Respecting: This pillar builds upon the acceptance the children have worked on. Getting to know seniors as real people and respect their experience involves connecting with seniors face-to-face, or at least virtually. Taking the time to actually communicate with older folks can go a long way to establishing long-term connections.
Part of the "respecting" lesson also involves respecting the challenges many seniors face, which can include isolation and loneliness. Not only is establishing lines of communication between generations positive for learning lessons of respect, it also helps actively develop habits for young people of staying in touch and chatting with their elders.
Protecting: Once the foundation has been laid, and respect has been established, Intergenerational Day has a call to action for kids to take with them as they grow up -- it's important to protect the physical, mental and emotional wellbeing of seniors.
The easiest way to do this is to use the now established practice of simply keeping in touch, listening and learning from older folks. This is a great way to ensure they're keeping mentally active, and also maintaining important connections. Establishing the practice of protecting these relationships early will help establish the behaviour for years to come.
Heart to Home Meals Looks Forward to Celebrating Intergenerational Day With You
Caring for seniors is the cornerstone of what Heart to Home Meals is about. While our meals that are made to provide delicious and healthy options may be the part of our business you're most familiar with, connecting with our customers and building relationships is something we're equally passionate about.
Everyone from our customer service representatives to our delivery drivers is passionate about connecting with you, and establishing a genuine connection. That's why Intergenerational Day is a cause for us to celebrate -- it takes a moment to pay special attention to something as important as recognizing seniors, and building relationships.
While many of us have faced unprecedented isolation over the last year, we hope that you'll enjoy chatting with our drivers and our customer service representatives as much as they enjoy chatting with you.
---------
While Intergenerational Day only officially lasts 24 hours, the lessons it helps teach can last a lifetime, and benefit the children and the seniors they connect with alike. We hope that you're able to reach across generations and connect with young people in your life, so they can hear the important stories you have to share.
Heart to Home Meals is a proud supporter of the Relay For Life and the Canadian Cancer Society, building on our shared mission to promote healthy eating, healthy living and healthy lifestyles. To learn more about our program and discover the meals which help support the fight against cancer, CLICK HERE!
Dont forget to "Follow" and "Like" us on Facebook