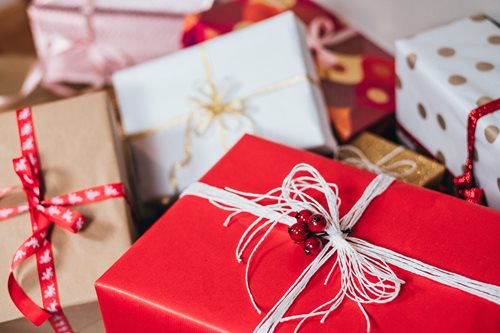 Christmas Gift Suggestions for All Ages
We're once again nearing the season of twinkling lights and Christmas trees, with the expectations of lots of family, friends and food. But one of the most exciting things that comes with the holiday season is figuring out the perfect gift to buy everyone on your list -- particularly children.
Whether it's for your young grand (or great grand) kids, or perhaps for teenagers who are just starting to find their passions, there are a few ways to guarantee a great gift, and a few ideas you might want to avoid.
Kids grow up fast, and even the difference of a couple of years can lead to drastically different interests and gift requests. Of course, every kid will be different regardless of age, but hopefully these get you thinking about some age appropriate gifts.
Here are some Christmas gifts to consider this holiday season:
Ages 1-5
At very young ages, it's best to not only consider the needs of the child, but also the needs of the parents. Very young children are often growing so fast, parents are scrambling to find clothes that will fit them. Consider investing in some useful snow boots and other winter gear that will be useful for the season.
It's also important to consider choking hazards at this age. Toys that have lots of small pieces are not ideal, especially since children this young are often too little to take responsibility for cleaning their own play area -- adding another chore for the parents. Instead, consider a child art set, where kids can use their creative energy on paper instead of walls and floors to create memorable artwork that will be cherished later on in their life.
Another great idea for very young children, are picture books that can be read aloud to them before bed. This is an important time of their lives when it comes to developing an interest in books and language, and reading to them can be a great start. Plus, it's an excellent bonding time activity for Grandma or Grandpa to take part in!
Ages 6-9
At these ages, children are beginning to develop their own interests and hobbies. It's a great way to foster educational opportunities while still providing a fun activity. In this spirit, there are few gifts more appropriate than Lego sets. While Legos have likely been around since you were a kid, they are more popular than ever nowadays, largely driven by the popularity of the "Lego Movie" series. There are hundreds of different sets which reflect a variety of interests. Whether the kids you're buying for are into building castles, or constructing their favourite spaceship from Star Wars, there's a Lego set for everyone! Plus, it's an excellent opportunity for kids to be creative and practice problem solving and fine motor skills.
If the children you're buying for have access to a computer or tablet, the computer game Minecraft is a fully immersive world where you can build and construct any number of structures using a variety of materials. It's very wholesome and allows kids to explore an interactive and educational environment which offers a lot of the same benefits of a Lego set, without the cleanup a bunch of Lego bricks necessitate.
Ages 10-12
As kids get older and get towards the end of elementary school, they're often looking to feel (or at least appear) more grown up. They start to be image conscious and will likely remain so throughout their teens. It's a good idea to stick to neutral gifts, or ones that reflect their current hobbies -- checking in with their parents is never a bad idea. Avoiding highly visible gifts like clothing or other apparel at this age (unless double and triple confirmed) is probably a safe bet.
One idea is investing in long-term gifts that will allow kids to have a sense of ownership and responsibility. At these ages, kids are beginning to want to demonstrate their ever-growing maturity and finding gifts that encourage that tend to go over well. Buying a small terrarium with succulents (hardy, easy to grow plants) can be a great addition to a bedroom aesthetic, and a good opportunity for children to practice caring for something without the stakes being set too high.
This is also a great opportunity to support ongoing and developing hobbies. Is there a sport or club the child you're buying for is into? This can often be an excellent gift launch point. For the hockey fan, a signed card from a player on their favourite team can often put them over the moon and can usually be found surprisingly inexpensive online. For the book worm, the latest novel in their favourite series is a great bet, or perhaps a new book in the genre they love.
Teenagers
Whereas younger children generally feel more comfortable conforming to safe, popular trends, many teenagers are seeking outlets of self-expression. They are also increasingly digital savvy and use a variety of technology every single day, especially their smartphones! Additionally, today's teens can be very cause-oriented, shaping their identity around a movement they support, such as environmental stewardship.
Music has been a part of teenage identity since the invention of noise. As always, many teenagers are extremely proud to show their support of a favourite artist or band in the form of apparel. It could be as simple as a band t-shirt, but many of today's artists have their own clothing line or sell other merchandise with unique branding. If you're confident of the teen you're shopping for musical interests, helping them display their interest with affiliated apparel can be a great gift idea.
For the tech-savvy teen, charging their myriad devices and keeping track of charging cords can be a real headache. Luckily, charging hubs are an affordable way to keep everything in one place and prevent losing track of multiple cords. Check out this silicon charge hub from Elago for a quick-win tech gift.
If you're buying for a teen who is invested in supporting a cause, contributing to that can be a great opportunity to show you're invested in their interests. For the environmentally conscious teenager, making a donation to plant trees in their name can be a great way to demonstrate your support.
-------------
The holidays are almost here, and with them comes another exciting opportunity to celebrate your loved ones with the perfect gifts. It's not always easy shopping for children, but with the right tips for the right age group, you're bound to make someone very happy this Christmas.