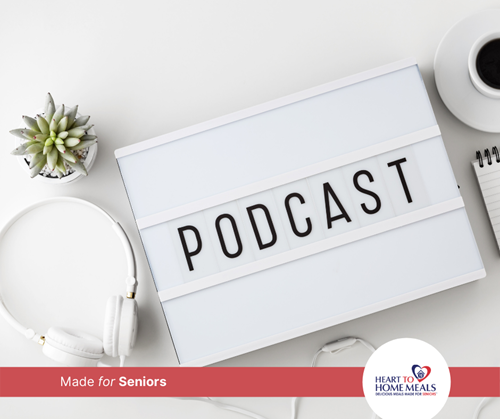 Want to learn new things, be entertained, and get inspired? With the touch of a button you can, thanks to the wide and wonderful world of podcasts. Whether it's a niche topic or something mainstream, there's something for everyone, so grab your earbuds and get ready to listen up.
What Are Podcasts?
Hugely popular and incredibly convenient, podcasts are basically internet radio programs you can listen to on demand, what you want and when you want. Podcasts are available at your fingertips and can be downloaded for free onto your smartphone, tablet or computer using the internet. Whether you're going for a walk, doing a craft, or just want to be transported to another world by simply listening, seniors are tuning in to this modern medium of entertainment, choosing from over 1 million podcasts and more than 29 million episodes with shows tailored to every interest, from quilting and gardening, to politics and true crime.
Where to Start?
Informative, educational and entertaining, engaging, and stimulating, the hardest part of listening to podcasts is choosing what you want to listen to. We've curated podcasts that we think will spark your mind and keep you captivated for everything from minutes to hours.
Get ready to get lost in in this list of the top 15 podcasts for seniors:
Ted Talks - With nearly 3,000 talks on any subject you can think of, this podcast brings together the world's leading thinkers, inventors and creators to find new, inspiring solutions to old problems.
Money Talks - Hosted by Michael Campbell, one of Canada's most respected business analysts, this weekly podcast covers everything from money and finance, to investment and the economy.
Front Burner - If you'd rather listen to the news than watch it, this daily news podcast from The CBC is a great way to stay current as it takes you deep into the issues shaping Canada and the world.
The Better Health While Aging Podcast - Geriatrics specialist Dr. Leslie Kernisan and her guests offer practical information and advice on common health issues affecting people over 60. It's a great way to learn how to improve your health and age successfully in the years ahead.
Stuff You Missed in History Class - This hugely popular history podcast covers a range of topics focusing on the social, political and cultural importance of past events. It goes beyond what you learned in high school and is sure to leave you hungry for more history.
This American Life - One of the most popular podcasts, this human interest program is produced by NPR and hosted by Ira Glass. Every episode is downloaded by 2.4 million people. Clearly, listeners don't want to miss out on stories that entertain and educate. You're sure to find an episode that piques your interest.
10% Happier with Dan Harris - Want the secret to being happier? In this podcast, newsman Dan Harris explores new pathways to happiness. He interviews neuroscientists, philosophers, and authors to help listeners learn to become happier.  
Not Old – Better - A show made for people 50+ by people of the same generation, it's hosted by award-winning journalist Paul Vogelzang. It features topics and issues people 50+ may find interesting, including healthy eating, fascinating people and fascinating times. The show is based on the idea that "it's never too late to pursue your passions and create a life of purpose, adventure and significance."
30 For 30 - Sports lovers will enjoy this podcast from the makers of the award-winning ESPN TV series, "30 For 30." It covers everything from big-time poker to big-league baseball. It's sports like you've never heard them before.
Guided Meditations - Created and hosted by psychotherapist Tara Brach, short episodes are between nine and 25 minutes long, but are guaranteed to help you feel calm and relaxed. This is great way to de-stress after a long day.
Dirty John - This true-crime-podcast-turned-Netflix-series will send goosebumps up your arms: love, betrayal, mystery. Christopher Goffard, a Pulitzer Prize-nominated journalist, hosts. Get the popcorn and hang on to your seat. If you like riveting, real-life drama, this podcast won't disappoint.
Modern Love - NPR and the popular New York Times "Modern Love" column come together for a podcast that will have you falling in love at first listen. First, a notable personality reads an essay from the paper; then a follow-up interview with the author ensues. This is a real-life podcast that will make you laugh and cry.
How I Built This - If you're interested in how major companies were started and how they became so successful, you'll love this business-minded show hosted by Guy Raz. From Home Depot to Dyson, you'll hear how some of the best-known companies got to be just that.
The Alton Browncast - Beloved Food Network star and chef Alton Brown takes the kitchen by storm in this podcast about culinary trends, recipes and best practices, featuring a range of popular chefs.
Next Question with Katie Couric - This award-winning TV journalist has taken over the podcast airwaves with a current events show exploring the people, movements and issues changing our lives and our world. In it, she includes some of the most interesting people in news, pop culture and politics.
---------------
How do you find and listen to podcasts?
Listening to audio programmes, or podcasts, is simple if you have access to the internet. You just need to find a podcast platform or app that suits you and then sample some of the many thousands of podcasts made around the world. All podcasts are free, and most are available via many different apps.
There are different places you can go to listen to podcasts. Whether you use a computer, smart phone or tablet, there are many options to choose from for your podcast needs:
Internet Search
Directly on a website
Apple Podcast
Google Play Music
Spotify
Heart to Home Meals is a proud supporter of the Relay For Life and the Canadian Cancer Society, building on our shared mission to promote healthy eating, healthy living and healthy lifestyles. To learn more about our program and discover the meals which help support the fight against cancer, CLICK HERE!
Dont forget to "Follow" and "Like" us on Facebook